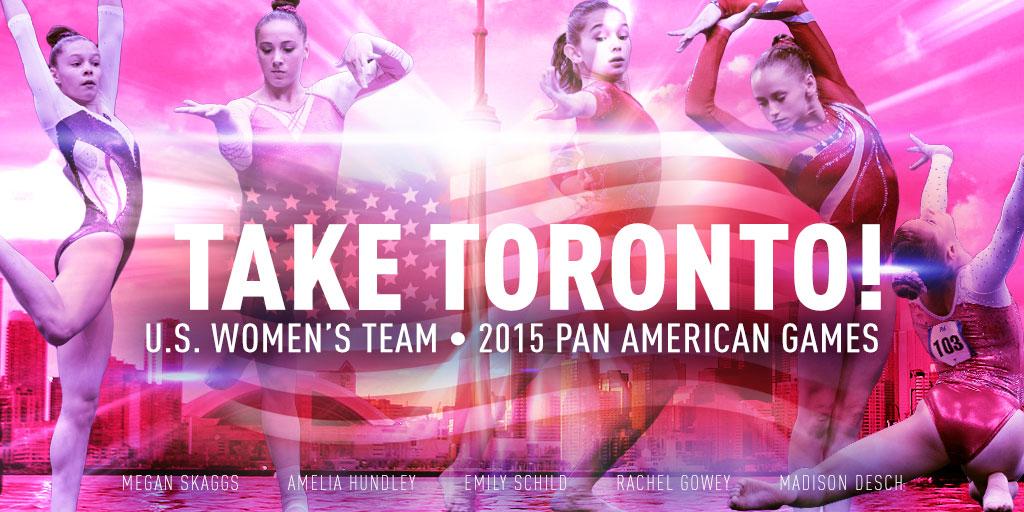 After a long selection process, USA Gymnastics has announced the U.S. women's team for the 2015 Pan American Games. "After two days of verification, the Selection Committee unanimously decided on the five athletes to represent the United States at the Pan Am Games," said Martha Karolyi, in a USA Gymnastic Press Release. The team is Madison Desch of GAGE, Rachel Gowey of Chow's Gymnastics, Amelia Hundley of Cincinnati, Emily Schild of Everest and Megan Skaggs of Gymnastics Academy of Atlanta. 
Most of these gymnasts do not have a great deal of international competition experience behind them. Representing the USA to the best of their ability is their first and foremost goal. But the opportunity to get experience under their belt and prove themselves on an international stage is one that each of them wants to make the most of. Karolyi went on to say, "Led by Madison Desch, who was an alternate for the 2014 World Team, this is a young but talented team, and the experience of competing at the Pan Am Games will help them as they continue to gain experience for the World Team selection. We look forward to their performances at the Games."
Desch will go into this competition with the most experience, and help the rest of the team learn the ropes of competing internationally. Desch is an all-around gymnasts with beautiful lines, her best contribution is likely to be on bars. Gowey has only represented the USA one time internationally, and due to many injuries over the last two years, does not have as much experience in competition in general. If Gowey is able to bring to the promise she showed last year, she will be the strongest all-around hope for the team and an incredible addition to the team. Hundley showed incredible promise as a junior, but was not quite able to rise to her potential last year before injuring herself. Hundley is a standout on floor and bars, but she should also be able to contribute any event that the USA needs.
This is Schild and Skaggs first year as national team seniors. They both made their debuts earlier this year at the City of Jesolo Trophy competition. Schild's a strongest events are vault and floor. Skaggs is a strong all-arounder. The two will be great additions to the team.
The Pan American Games run from July 10-26. The artistic woman's gymnastics competition will begin with qualifications on Sunday, July 12 and conclude with event finals on Wednesday, July 15. The games will include an all-around, team and individual apparatus competitions. The US is sending gymnasts to compete in all forms of gymnastics, including men's and women's artistic gymnastics, trampoline, and rhythmic gymnastics. Schedules of competition and more information can be found on http://www.toronto2015.org